"The critical piece of our vision is being a bridge between what the future looks like, and ensuring that future can happen here safely," says Jude Groves, chairperson of the Alberta Motor Transport Association
Article content
On the busy highways that connect Edmonton and Calgary, heavy-duty hydrogen fuel cell transport trucks will soon share the road with their diesel-powered counterparts, slashing carbon emissions and dramatically outpacing the efficiency of traditional combustion engines.
Article content
Those trucks will refuel at Canada's first commercial vehicle hydrogen fueling station, paving the way for a new generation of drivers who may also be trained in virtual reality (VR) simulators and drive vehicles with automated technologies that reduce overall workloads.
"It's an exciting time," says Jude Groves, chairperson of the Alberta Motor Transport Association (AMTA), the provincial organization that represents commercial transport stakeholders. "We are excited about what's happening in our industry, the advances that are transpiring and the leadership role Alberta is taking."
Article content
For many in the industry, it's become increasingly clear that the future of land transport requires optimizing fleets with greener technology and ensuring vehicles are more energy efficient.
Article content
This is the driving force behind several AMTA-led initiatives, including the Alberta Zero Emission Truck Electrification Collaboration (AZTEC) project, a $17.2 million program to design and deploy two hydrogen-electric trucks that travel up to 700 kilometres between fueling stops with gross weight capabilities of 63,500 kg.
AMTA is one of 12 industry partners working to develop these vehicles, with deployment expected in late 2023. They would be the first vehicles of this size and capacity built and tested in the world, a made-in-Alberta solution that could soon be adopted in other cold climates.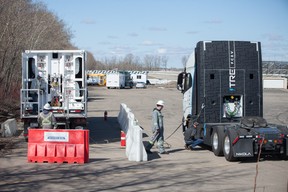 "As a Canadian organization, we are truly being leaders in this space," says Groves. "We're building it to meet the requirements of Canadian operators and demonstrating that it can be done here in our climate, for the weights that we operate at, safely [and] efficiently."
Article content
AZTEC vehicles would be supported by the Electric Vehicle Infrastructure Demonstration (EVID), a $2.3 million program from Natural Resources Canada to establish the country's first commercial vehicle hydrogen fueling station. This pilot project is key to developing a network of hydrogen fueling stations in Alberta, and AMTA believes it would position the province as a national leader in energy-efficient transport.
"It's a great demonstration — to show that it is possible," says Groves. "Everything starts somewhere. That snowball was just a flake of snow at one point … it turned into something bigger."
AMTA is also working with Edmonton-based Serious Labs, with funding from the provincial government and Emissions Reduction Alberta, to create a virtual reality simulator that would complement traditional on-the-road training.
Article content
On the surface, VR-based driver training might not seem like a carbon-reduction initiative, but that's part of the motivation for this industry-supported program. This tool would be designed, manufactured and piloted in Alberta, and is projected to eventually reduce carbon emissions from traditional on-the-road training by 80 per cent.
The simulator would also enable recreation of challenging or dangerous scenarios that cannot be safely replicated in traditional on-the-road training, such as a tire blowout on the highway or how to safely respond to erratic drivers.
"In the aviation industry, they've been doing this in simulators for 30 years," says Groves. "Our industry is looking to get to that point where we can validate competencies and put them on the road with a trainer to validate those skills in real world, real time."
Article content
Commercial deployment of the simulator is estimated for 2024, and it would be made available across Canada and the United States initially. This is one of several initiatives designed to support consistent training within the industry, recognize the professionalism of the job and support access to training or tools for Albertans looking to enter the industry or carriers looking to develop from within.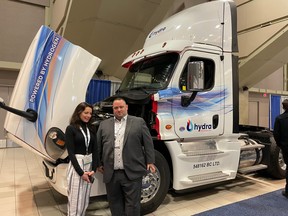 Meanwhile, industry stakeholders are also engaged in real-world trials to integrate automated technologies aimed at improving road safety. These include advanced platooning systems supported by automated emergency braking, adaptive cruise control and sensors like those that automatically turn on headlights and windshield wipers in response to external conditions.
Article content
"It's truly an exciting day when we start to see technology supporting a professional driver, supporting the tools they have and ultimately improving safety performance on the road," says Groves.
As technology advances, more ambitious automated systems may also be implemented on Alberta highways, but Groves notes that is a longer-term opportunity. Automated vehicles already operate in parts of the United States, he says, but they don't encounter the snow or -40 C weather that Alberta drivers contend with.
"The critical piece of the AMTA strategic vision is being a bridge between what the future looks like, and ensuring that future can happen here safely," he says.
"The resiliency and dependability of our supply chain is critical to everything we rely on in our day-to-day lives, and that's truly the underlying focus from the Association. How do we support our industry in developing the necessary capabilities, being resilient when faced with challenges and having the tools and resources to support the needs of Alberta and beyond?"
To learn more about the Alberta Motor Transport Association's research and innovation initiatives, visit amta.ca/what-we-do/research-and-innovation.
This story was created by Content Works, Postmedia's commercial content division, on behalf of the Alberta Motor Transport Association.