From Fendi teddy bears that cost as much as a flat deposit to monogrammed Gucci bibs and Versace snuggle pods, the glamorous social media feeds of celebrities and their mini-mes have turned baby bling into a multibillion pound sales spinner. Now you can even buy them perfume.
This week Dior launched a £230 fragrance to spritz on your infant's neck or waft around the nursery. Using the kind of hyperbole unique to the perfume adverts that fill ad breaks this time of year Dior says its Bonne Étoile "scented water" is an "invitation to the tenderness of childhood, the age when the senses awaken, where a child's laughter enchants and dreams reign".
Although admittedly babies sometimes smell bad the need for perfume, even one that promises "soft notes of pear, wild rose and white musks", could be considered a bridge too far even for parents with money to burn.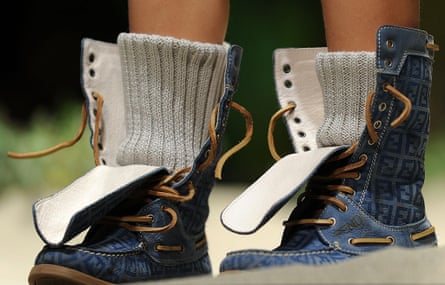 "I'm always amazed at the creativity of the beauty market coming up with products that we never knew we needed, or in this case, don't need," said Jennifer Howze, the editorial director of parenting site Netmums, not least because there's "nothing more delicious than the smell of your own baby". "What's next – a toddler anti-ageing cream?"
For parents preoccupied with the cost of nappies and nursery fees the idea of shelling out for designer baby toiletries – you can buy Dior skincare products too – is laughable. But analysts say companies are targeting label-conscious consumers who grew up watching shows such as Keeping Up with the Kardashians as well as generous gift-givers.
"Some of this demographic wants to live the life of the influencers of their generation, the Kardashians, the Beckhams et al," explains Catherine Shuttleworth, the chief executive of Savvy Marketing.
They might not be able to afford a £4,550 Fendi teddy bear or £2,400 Dior changing bag but toiletries do not have such a hefty price tag. Ditto Nike's recent push into the ludicrous designer baby shoe market. At £45 its new "Swoosh 1" trainers are cheaper than your first Uggs (£55) and more sensible than Gucci's £200 sneakers, not least because the owner can't walk and if they have agency will take one off and hurl it out of the pram.
In the same way that Britons like to buy small treats for themselves at beauty counters or stay overnight in a boutique hotel, even during tough times, these young shoppers want a "little bit of luxury" in their lives, says Shuttleworth. "You are touching the lifestyle these brands offer … you can smell like Tom Ford even if you can't have his lifestyle."
With the 1% shielded from the cost of living crisis analysts think global sales of designer childrenswear will hit £6.7bn this year as the luxury powerhouses compete to dress up the most influential celebrity offspring.
"The so-called 'mini-me' trend (when parents and children wear similar items by the same brands) started with the likes of Beyoncé and Blue Ivy but continues to benefit from millennial parents increasingly willing to spend on the carefully polished images they project to the world via their social media platforms," said Marguerite Le Rolland, the head of footwear and apparel at the market researcher Euromonitor.
The trend has been stoked by the likes of Kim Kardashian and Victoria Beckham who have also been photographed wearing the same outfit as their child. However, the popularity of children's designer wear is a double-edged sword for upmarket brands, Le Rolland says, because even if celebrities buy the real thing, a lot of their aspirational followers will either opt for "dupes" (near "duplicates" of luxury items created by budget brands) or buy things secondhand. As a result this luxury market is only growing by a modest 1% a year.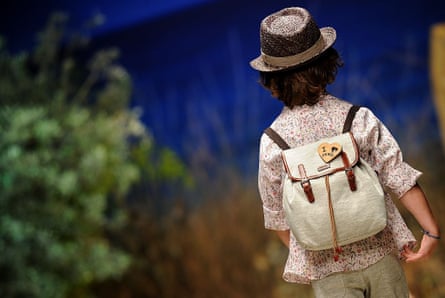 There has always been a market for designer clothing driven by parents who get enjoyment from luxury items, said Bonita Turner, the editor of Junior magazine. With today's emphasis on sustainability, the significant potential for resale and passing down well-made clothing was adding to the appeal, she added.
While celebrities and influencers were shaping the choices made by some parents, Turner said we "shouldn't overlook the inherent appeal of buying beauty products for the sheer satisfaction of it, and this boost is irrespective of economic conditions".
Becky Goddard-Hill, a children's therapist and wellbeing author who writes a blog on parenting and budgeting, said at a time when some people were relying on food banks for nappies and basic supplies it was madness that "we live in a world where people will pay enormous amounts on designer goods for a baby who won't even get any pleasure from wearing them. It is shallow and ridiculous."
link